It's Not About Balance; It's About Fulfillment
Women are absolutely bombarded with instructions on how to live their lives.  From magazines, Facebook, the Lean In Movement to the thousands of books about how to maintain BALANCE, women face a world that basically tells them, "They Don't measure up."
In this series, we will begin an exploration of all the ways women can find their own definition of personal fulfillment.  This series is designed as a threshold; our hope is to add more topics with the input of our participants – they know what they want and what they need.
It will be a dynamic, active series of women working through discussions on personal, spiritual, and financial fulfillment - each which informs us as we move forward in the world, personally and professionally, being more focused and finding fulfillment that feeds that elusive balance.
"Thank you so much for organizing and leading the Intuitive Joy workshop for Women Leaders. The workshops were very impactful especially as we are all reeling from the crisis in our world. My family has a weekly zoom where we all share a high, a low and what has brought us joy in the past week. I shared how the workshops have given me new tools and new connections to amazing women and for that and much more, I am grateful."
– Joanna Ballantine of The Davis Financial Group, LLC
"Doctors, dolphins and diamonds…oh my! I just think it was a series of magnificent gatherings of women's connective energy!  I thank you all so much for allowing me to share in those gatherings."
– Dr. Carla Oleska of Carla Oleska & Co.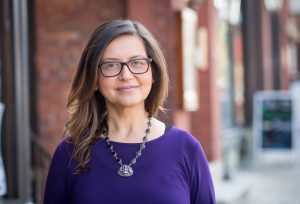 Shalini is an advocate of mindfulness in business, higher-ed and society. She is committed to integrating the transformative potential of mindfulness in education, business and policy to revitalize classrooms, organizations and communities. She has a doctoral degree in marketing from the Isenberg School of Management, UMass Amherst, where she is an Affiliated Expert/Lecturer. Her award-winning research on mindfulness has been published in premier marketing and public policy journals. Through her organization, KnowYourMind.training, she designs and delivers mindfulness-based solutions that address organizational challenges. In her studio, Downtown Mindfulness, she is co-creating a community to promote mindful living. As a District Councilor in the inaugural Town Council in Amherst, MA, she is now collaborating with multiple stakeholders to co-create mindful towns and cities.
She has been practicing mindfulness for over fifteen years and received professional certification to teach mindfulness from the Center for Mindfulness at UMass Medical School and the Search Inside Yourself Leadership Institute (the mindfulness-based emotional intelligence program that started at Google).
When she is not working, Shalini loves all kinds of creative projects, cooking, being in nature, meditating and Zumba.
Read More
Past Sessions:
SESSION 1 – September 20, 2019 11:30AM-2PM at the Inn on Boltwood
 Personal Fulfillment:   Our Multiple Glass Ceilings, Carla Oleska, PhD: We begin with an exploration of glass ceilings that we often don't think about the one within ourselves, the one we as women construct for other women and of course, the big one.
SESSION 2 – October 18, 2019 11:30AM-2PM at the Courtyard by Marriott in Hadley
​Our Spirit's Fulfillment: Mindfulness as A Superpower: Breaking Through Your Inner Glass Ceiling, Shalini Bahl, Phd: Shalini Bahl Milne will join Carla to help us further discover ourselves and help peel away layers that will all lead to increased fulfillment.
SESSION 3 – "The Chapters of Our Lives," an engaging exercise as our final chapter to our series led by Dr. Carla Oleska November 15, 2019 11:30AM-2PM at the Courtyard by Marriott in Hadley
Welcome to my show.  How are we the writer, the producer and the director of our own show? Carla Oleska, PhD  
SESSIONS 4 & 5 — Friday, May 15, 2020 Noon & Friday, May 29, 2020 Noon Online via Zoom
The Launching Women Luncheon Series Continues Virtually with Intuitive Joy®—An Affinity Group Workshop for Visionary Women lead by Dr. Leslie Saulsberry: Teaching women how to shift their mindset, establish healthy lifestyle practices, and dive deep into reflective work so they know intuitively what it feels like to live and lead in joy.
SESSION 6 — Thursday, April 29, Noon Online via Zoom
From SheCession to SheCovery: Creating Our Own Path with Speakers Joanna Ballantine, Donna Haghighat, Dr. Yves Salomon-Fernandez, Ana Lourdes Artiga Paredes, and Lisa Totz: A powerful panel of area women thought leaders sharing their unique views on the SheCession during COVID and what it will take for us to work toward a SheCovery, while taking stock of our own self-care.