Government Affairs & Policy Advocacy
The mission of the Amherst Area Chamber of Commerce is to create, maintain and promote a vital, thriving business climate throughout the Amherst area and to initiate and support the civic, educational, recreational and economic well being of the Amherst Area.
The Annual Charity Golf Tournament is an opportunity to come together and network with members of the business community while enjoying outdoor recreation and some friendly competition.
Over 100 golfers come out to support the Chamber and its contribution, along with Cooley Dickinson Health Care, of two scholarships as well as benefit the featured local non-profit, which rotates annually.
We look forward to seeing you out on the course!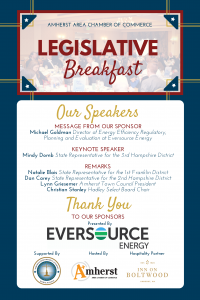 In 2019, the Amherst Area had several candidates elected that were serving in their first term. Locally, in Amherst, the inaugural Town Council was finishing up their first year with Lynn Griesemer serving as the first President of the Council. Likewise, in Hadley, Christian Stanley was serving as Select Board Chair in his first year…
Read More
Government Affairs & Policy Advocacy Committee