All In This Together Membership Drive
Our small businesses are the cornerstone of our society, providing personal prosperity, enhancing quality of life, and creating a sense of community. In the midst of the COVID-19 pandemic, Chamber membership is more important than ever. As a facilitator, advocate, and solution-finder the Chamber is working to ensure the success of all our small businesses. We are here for you in your time of need.
Our goal is not only to make sure that small businesses in Amherst, Belchertown, Hadley, Leverett, Pelham, Shutesbury, and Sunderland not only survive this dual public health and economic crisis but thrive thereafter. We are stronger when we come together and support one another, therefore, we invite you to join the Amherst Area Chamber of Commerce family. Together we can create a more resilient and sustainable economy.
For that reason, we are extending membership to any business, shop, store, or non-profit in the Amherst area. Contact us to find an option that works for you. Will you join us?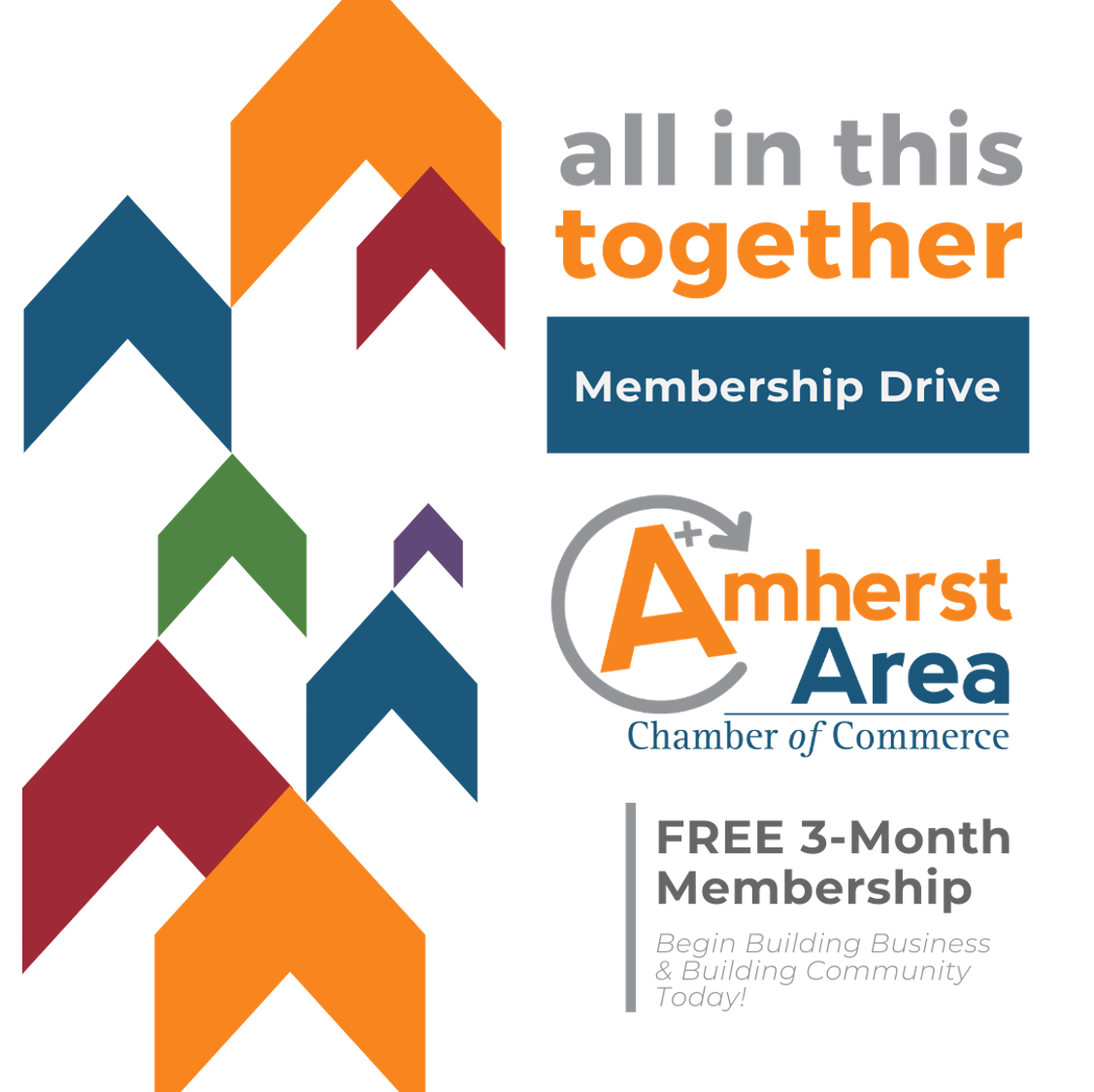 COVID-19 Response Feedback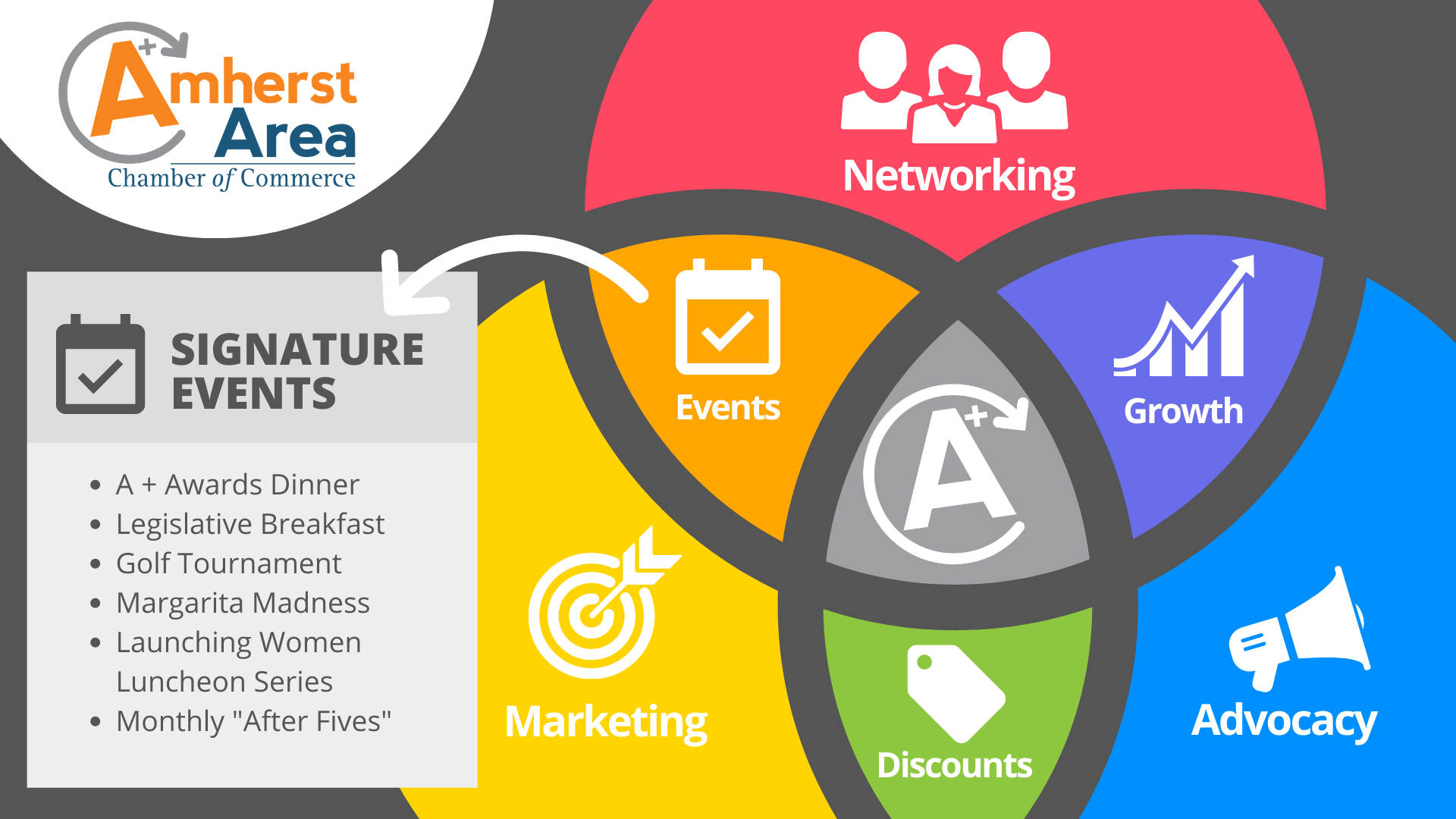 Testimonials
Thank you! The Leverett Village Co-op joining the Chamber has been a wonderful way to attract more shoppers AND led to our being one of the winners of the WRSI advertising contest. So exciting! The post you shared on Facebook got about ten times more views than our regular posts and business increased after your email. Amazing.
My reason to join the Chamber: I grew up in my Long Island family business, with my parents and me always a part of how the chamber builds the community. So it felt natural to belong to the Amherst Area Chamber when I ran the Family Business Center, and now as an independent consultant, It takes a village to make a village, and I am part of that village. I enjoy the events, and it's an easy way to build valuable relationships, and feel more part of the backbone of the town, And it's so like life: you get out of it what you put in. 
Member-to-Member Support & Referral Network: Being part of Chamber means being part of a community of business leaders and decision-makers who seek to work together to build business and build community.
Marketing & Promotion: Through traditional (print, radio, public television) and digital marketing strategies including SEO optimization of the Chamber website and Membership Directory the Chamber gets your name out there and increases your impact (depth) and exposure (breath). Weekly Newsletter & at least twice weekly COVID-19 updates
Webinars & Workshops: Free or Member Pricing We also can provide one-on-one consultation services with the Chamber staff, through monthly office hours with the Massachusetts Small Business Development Center staff (MSBDC), Valley Community Development small business development team, our local SCORE Chapter.
Personal & Professional Development Opportunities: From the Launching Women Luncheon Series to Sessions with Downtown Mindfulness and Diversity and Inclusion Workshop, the Chamber offers relevant training to cultivate personal and professional growth.
Programing & Events: Free or Member Pricing for leadership development, technical, and educational programing.
Government Affairs & Policy Advocacy: The Chamber leverages working relationships with local and state officials in our community, contact in or federal delegation, agencies, media contacts and community groups to bring about positive change that builds business and builds community. The Chamber also convenes critical conversation around issues and identifies policy priorities examples include our Annual Legislative Breakfast with noteworthy speakers, Economic Development Forum, Housing and Economic Development Forum.
Tourism: The Chamber tells the story of the Amherst area attracting tourism through the Hampshire County Regional Tourism Council partnership with the Northampton and Easthampton Chambers to produce Visit Hampshire County! guides, website, and social media channels and Downtown Amherst Visitor's Information Center.
Building Business. Building Community.
The Amherst Area Chamber of Commerce is first and foremost a membership organization comprised of 365+ local businesses and non-profits.
Whether you need assistance navigating systems, are seeking a letter of support for a project, or advocating for policy change at the local or state level, you will always have an advocate in the Amherst Area Chamber. Your Chamber staff and Government Affairs & Policy Advocacy Committee are informed, engaged, advocating for economic development, and representing your interests. We are in the room and at the table. The Chamber proposes policy, advises officials and stakeholders at every level, and weighs in on proposed legislation and regulations. We are in your corner, fighting for you.
Seeking advocacy around an issue or a letter of support? Submit an inquiry here or contact Chamber staff directly.
Relocating your business? The Chamber is the place to start.
Just getting your feet wet or simply need a space to get work done? AmherstWorks is a co-working space in the Amherst Area. Incubator space is currently being developed in Downtown Amherst.
The future is here. The Chamber can recommend real estate and development opportunities in the Amherst Area and connect you with the partners you need.
A Certificate of Origin (CO) is an important international trade document that certifies that goods in a particular export shipment are wholly obtained, produced, manufactured or processed in a particular country. They declare the 'nationality' of the product and also serve as a declaration by the exporter to satisfy customs or trade requirements.  
The Amherst Area Chamber of Commerce can certify a Certificate of Origin for members in good standing in Massachusetts. Complete the Certificate of Origin Form and send it to info@amherstarea.com and an Amherst Area Chamber of Commerce staff members will follow up with you directly. 
Additional Resources: 
Submit a request below or contact Chamber staff directly for further assistance. 
The Chamber is a leading player in the region's strategic effort to recruit new business, retain and develop a talented workforce, and foster a culture of entrepreneurship and innovation. Along with business leader partners we are able to cast and vision, plan for the future. By doing so, we help manage and grow your business. 
Current Economic Development Initiatives 
The Chamber partners with local non-profits and community organizations to help them thrive. As a fiscal agent, the Chamber acts as a pass-through organization to allow another organization to receive the donation, disperse funds, etc. 
The Amherst Area Chamber currently serves as a fiscal agent with local organizations such as the Amherst Farmers' Market.
Submit a request below or contact Chamber staff directly. 
Coming Soon! To Launch Fall 2020
You will be part of abundant networking opportunities. Our popular "After Fives", breakfasts, workshops, and annual signature events give Chamber members a chance to meet face-to-face, expand their network, and connect with other professionals. Building relationships is an important part of running a business. Chamber membership will help you do that.
Find Upcoming Events: 
The Chamber's Accounts Manager/Bookkeeper Laurie Freitag is a Notary Public and has the authority to notarize documents.
If you need a document notarized submit an inquiry here or contact Chamber staff directly.  
A Notary Public is an official of integrity appointed by the Commonwealth's Secretary of State to serve the public as an impartial witness in performing a variety of official fraud-deterrent acts related to the signing of important documents.  
Additional Resources: 
You will be both recommenced and referred to fellow members and the community-at-large. The Chamber responds to the dozens of customer inquiries we receive monthly by phone, email, online, and that walk into our Visitors' Information Center. Make sure you are on our list! We work hard to ensure that your membership returns tangible visibility and sales to you and your organization. 
The Chamber's Member Directory is a starting place. Feel free to reach out to Chamber staff directly for concierge services, referrals, and recommendations. Submit an inquiry here or contact Chamber staff directly.
Thinking of moving to the Amherst area? Submit an inquiry here or contact Chamber staff directly. We can provide you with information resources to help make your move as smooth as possible. 
Check out the Real Estate, Moving & Storage listing on our Member Directory. 
The Chamber hosts and provides marketing and outreach services for groundbreaking ceremonies, ribbon cuttings, grand openings, and anniversaries for our Members. Submit an inquiry here or contact Chamber staff directly. 
Seeking business advice? Our door is always open. As a member, the Chamber will provide you with professional development opportunities as well as coach you through business challenges and transitions.
The Chamber hosts monthly office hours with the Massachusetts Small Business Development Center (MSBDC) and can set you up with undergraduate and graduate-level student researchers and consultants from our institutions of higher ed. 
Additionally, the can refer you to great local resources including professional coaches as well as our partners:
Complete list of business development resources and coaches
At Chamber workshops, you will hear from experts on topics ranging from technical such as leveraging social media, email marketing, and to how to gain more leads with through your website and SEO to more general management and operations subjects such as our "9 Lies That Are Holding Your Business Back" series and "How to love your customer so they love you back" event. Get ready to grow! 
The Amherst Area Chamber of Commerce and Amherst Business Improvement District (BID) co-manage the Visitors' Information Center in Downtown Amherst. Member's materials can be featured in the VIC. 
Arts, Culture, and Entertainment Attractions
Looking for more information? Submit a request here or contact Chamber staff directly.
Make the Chamber part of your marketing strategy. We offer a variety of opportunities through traditional and digital marketing to increase the visibility (breadth) and impact (depth) of your marketing.
Visibility begins with membership. Member information is promoted on our digital platforms and on display in the Visitor Information Center. Search engine optimization (SEO) of the Chamber website and Member Directory places your name in front of targeted customers. Through Google Analytics and our CRM database, the Chamber can share stats and track your ROI.
Additional Marketing Opportunities:  
Event Sponsorship
Downtown Amherst Banner Campaign
Create a Custom Marketing
Submit a request below or contact Chamber staff directly. 
Also, check out fellow Chamber Members that are marketing gurus:
Value of Membership
Membership dues are a commitment to and investment in the Amherst Area Chamber of Commerce. Dues enable us to fulfill our mission. Get started with the free "All In This Together" Membership and try the Chamber for a quarter. To learn more, call Executive Director Claudia Pazmany at 413-253-0700.

General Business
Any Business with 75 or Fewer Employees including all Restaurants.
Quarterly Reduced Auto Pay Rate - $92.50
Monthly Reduced Auto Pay Rate - $31.66
Sole Proprietor
Independent Contractor or Sole Proprietorship. Single Owner/Employee.
Monthly Reduced Auto Pay Rate - $26
Non-Profits
Recognized 501c3 Non-Profit Organizations
Civic
Municipalities (Cities or Towns) and Community Organizations
Large General Business
75+ Employees
Quarterly Reduced Auto Pay Rate - $190
Monthly Reduced Auto Pay Rate - $64
Banking Institution or University/College
Please Contact Chamber Directly for Details.