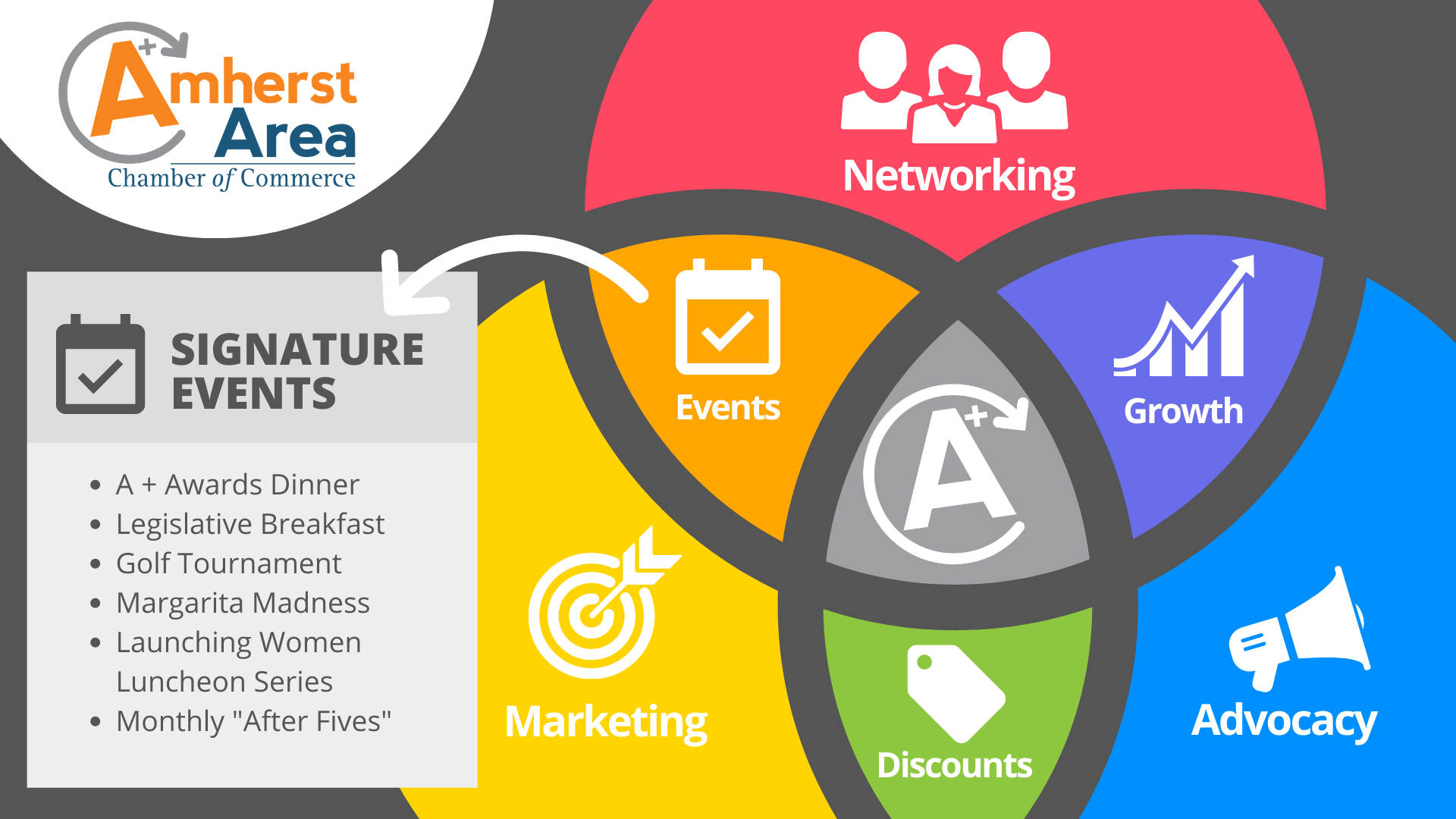 COVID-19 Response Feedback
Member-to-Member Support & Referral Network: Being part of Chamber means being part of a community of business leaders and decision-makers who seek to work together to build business and build community.
Marketing & Promotion: Through traditional (print, radio, public television) and digital marketing strategies including SEO optimization of the Chamber website and Membership Directory the Chamber gets your name out there and increases your impact (depth) and exposure (breath). Weekly Newsletter & at least twice weekly COVID-19 updates
Webinars & Workshops: Free or Member Pricing We also can provide one-on-one consultation services with the Chamber staff, through monthly office hours with the Massachusetts Small Business Development Center staff (MSBDC), Valley Community Development small business development team, our local SCORE Chapter.
Personal & Professional Development Opportunities: From the Launching Women Luncheon Series to Sessions with Downtown Mindfulness and Diversity and Inclusion Workshop, the Chamber offers relevant training to cultivate personal and professional growth.
Programing & Events: Free or Member Pricing for leadership development, technical, and educational programing.
Government Affairs & Policy Advocacy: The Chamber leverages working relationships with local and state officials in our community, contact in or federal delegation, agencies, media contacts and community groups to bring about positive change that builds business and builds community. The Chamber also convenes critical conversation around issues and identifies policy priorities examples include our Annual Legislative Breakfast with noteworthy speakers, Economic Development Forum, Housing and Economic Development Forum.
Tourism: The Chamber tells the story of the Amherst area attracting tourism through the Hampshire County Regional Tourism Council partnership with the Northampton and Easthampton Chambers to produce Visit Hampshire County! guides, website, and social media channels and Downtown Amherst Visitor's Information Center.
Testimonials
Thank you! The Leverett Village Co-op joining the Chamber has been a wonderful way to attract more shoppers AND led to our being one of the winners of the WRSI advertising contest. So exciting! The post you shared on Facebook got about ten times more views than our regular posts and business increased after your email. Amazing.
My reason to join the Chamber: I grew up in my Long Island family business, with my parents and me always a part of how the chamber builds the community. So it felt natural to belong to the Amherst Area Chamber when I ran the Family Business Center, and now as an independent consultant, It takes a village to make a village, and I am part of that village. I enjoy the events, and it's an easy way to build valuable relationships, and feel more part of the backbone of the town, And it's so like life: you get out of it what you put in. 
Building Business. Building Community.
The Amherst Area Chamber of Commerce is first and foremost a membership organization comprised of 365+ local businesses and non-profits.
Whether you need assistance navigating systems, are seeking a letter of support for a project, or advocating for policy change at the local or state level, you will always have an advocate in the Amherst Area Chamber. Your Chamber staff and Government Affairs & Policy Advocacy Committee are informed, engaged, advocating for economic development, and representing your interests. We are in the room and at the table. The Chamber proposes policy, advises officials and stakeholders at every level, and weighs in on proposed legislation and regulations. We are in your corner, fighting for you.
Seeking advocacy around an issue or a letter of support? Submit an inquiry here or contact Chamber staff directly.
Value of Membership
Membership dues are a commitment to and investment in the Amherst Area Chamber of Commerce. Dues enable us to fulfill our mission. Get started with the free "All In This Together" Membership and try the Chamber for a quarter. To learn more, call Executive Director Claudia Pazmany at 413-253-0700.
General Business
Any Business with 75 or Fewer Employees including all Restaurants.

Quarterly Reduced Auto Pay Rate - $92.50

Monthly Reduced Auto Pay Rate - $31.66
Sole Proprietor
Independent Contractor or Sole Proprietorship. Single Owner/Employee.

Monthly Reduced Auto Pay Rate - $26
Non-Profits
Recognized 501c3 Non-Profit Organizations
Civic
Municipalities (Cities or Towns) and Community Organizations
Large General Business
Quarterly Reduced Auto Pay Rate - $190

Monthly Reduced Auto Pay Rate - $64
Banking Institution or University/College
Please Contact Chamber Directly for Details.