Winter Microgrant Now Open!
In keeping with our mission to create, maintain and promote a vital, thriving business climate throughout the Amherst area especially during this economic crisis, the Amherst Area Chamber of Commerce launched the Winter Pivot Microgrant program and begins accepting applications today, Monday, January 11, 2021.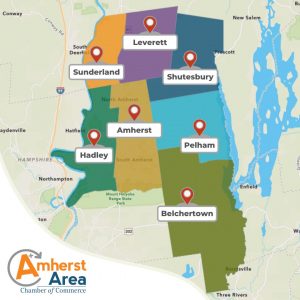 This funding was made possible as a result of an FY21 Earmark secured by Senator Comerford and administered through the Executive Office of Housing and Economic Development. The Amherst Area Chamber will administer $12,500 in micro-grants for small businesses in the Amherst Area to pivot or adapt for winter, with the intention of offering 25 $500 micro-grants.
The Amherst Area Chamber is seeking partners to match and double the size of the grants. "We continue to maximize every resource possible to buoy our small businesses during this crisis. With these creative solutions, we can offer hope, especially as we head into yet another difficult three-month spike of COVID even as the vaccine rolls out. Matching grants will provide double the impact. We want to give our small businesses every possible chance to survive." shares Claudia Pazmany, Executive Director, Amherst Area Chamber. If you are interested in partnering to support the Winter Microgrant Program contact Claudia.
The Grant review committee is comprised of the following business leaders representing the Amherst Area: Molly Keegan of Curran & Keegan Financial, Kishore Parmar of Pioneer Valley Hotel Group, Melissa Mann of Country Bank, Tracey Stearns, Marketing Consultant and Lynn Gray of the Hampshire Mall.
Eligibility Requirements
You are eligible if:
Your main brick-and-mortar store or business is in the Towns of Amherst, Belchertown, Hadley, Pelham, Leverett, Shutesbury, or Sunderland (at least 50% of your receipts come from that location).
Your business is eligible for this initial round of grants if its 2019 revenues were between $25,000 and $500,000 and your 2020 annualized revenue has been reduced by 25% or more due to the state's current guidelines for business during the COVID-19 pandemic.
Your business is a for-profit entity.
Your business is not eligible if:
You work remotely in a coffee shop, co-working space, or from home.
You received a Downtown Amherst Foundation (DAF) Relief and Resiliency Grant.
Those awarded will receive a $500 unrestricted microgrant. Funds may be used to implement anything new or pivot. These funds can be used for rent or payroll purposes as long as the benefits are not duplicated by another state or federal grant.
Use of Funds and Distribution
Once awarded, grant recipients must submit a completed W-9 to the Amherst Area Chamber of Commerce. A check made out to the legal name of the business will be distributed by the end of February.
Timeline
Application Opens 1/11/21 at 12:00AM.
Application Deadline 1/29/21 at 11:59PM.
Decisions will be released by 2/15/21 and grant funds distributed by 2/28/21.
"We have been searching for options and partners to create micro-grant opportunities for those who were unable to access the Amherst-wide Relief & Resiliency Microgrants. This now allows us to reach the remainder of our Amherst Area. It has been a long-time coming, but we are thrilled to be able to make this a reality at this especially challenging time." shares John Page, Membership & Marketing Manager, who drafted the grant proposal.
The application is NOW LIVE so please SHARE WIDELY.
Reminder: you do not need to be a member of the Amherst Area Chamber to apply. If you know a small business that would benefit from this grant program.